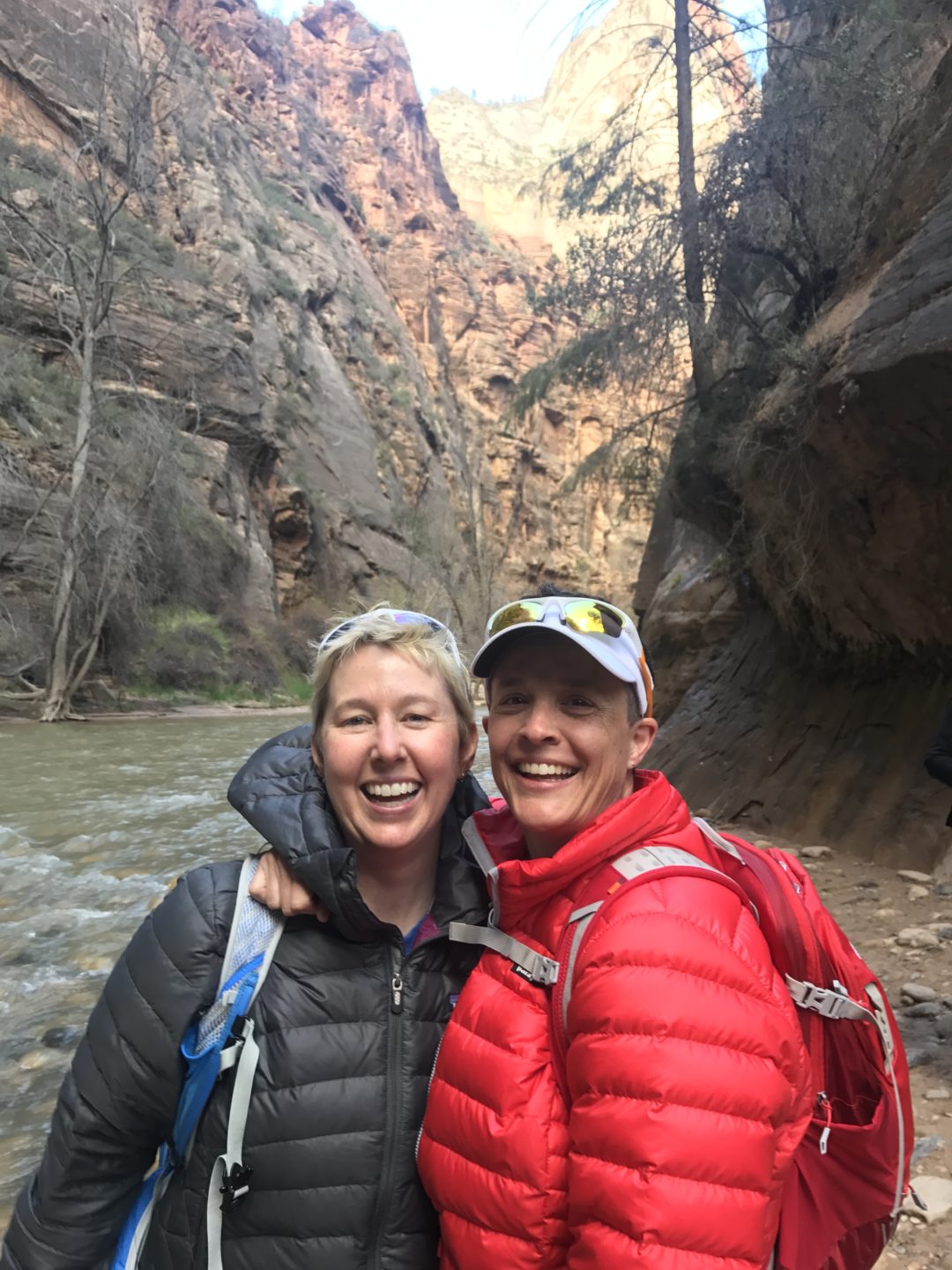 Wow! How time flies! We can hardly believe it's been over 6 months since we left the comfort of our former home for this tiny living adventure. And what an adventure it has been! From the wettest winter in years, finding a place to park it, fixing broken pipes, emptying the "black" tank, and more, we have surely experienced some adventure, and also new found perspectives.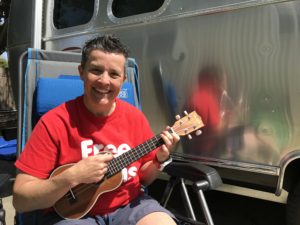 To briefly recap, in October 2016, we sold our 2300 sq ft home to live in a 30 ft travel trailer. Some of you might be wondering what it's like making the transition. Do we like it? Do we have any regrets?
The short answer….no regrets! And overall, we love it. Most of it anyway. In the last 6 months, we've learned a lot about ourselves and a lot about the pros and cons of this lifestyle. We know we will continue to learn more along the way but we'll share some of the good, bad, and the ugly so far.
Funny thing when we started talking about a list of the pros and cons the first thing to come to mind were the cons. I think sometimes we gravitate toward seeing the negatives. At first, I looked at the list and thought "Geez, why are we doing this if there are so many negatives?" Over time the list of pros grew in number as we thought of more things we consider to be positive. And the positives have a lot of weight in our opinion.
So, let's start with the bad and end with the good! The downsides to our tiny living lifestyle include:
Limited space for cooking. It's a decent space and I can cook up some pretty awesome meals but it has certainly been an adjustment. We have found ourselves eating out more which isn't the most healthy. We are looking forward to the warmer weather and perhaps more outdoor cooking. I do miss my big oven for roasting brussel sprouts and cooking my sweet potato fries!
No dishwasher. Ok, I miss the dishwasher. Darcy doesn't! I know many people live perfectly fine without a dishwasher and it's not the end of the world to not have one but I do miss being able to put the dinner dishes right into the washer. It makes me appreciate the convenience more.
Condensation! Moisture is the enemy of tiny living. Especially with such a wet winter moisture has been a challenge. With 2 people and 2 dogs that's a lot of breathing in a small space and limited options to ventilate when it's pouring outside. We have gotten creative with some barrier applications in key places and the use of a de-humidifier which has helped. We look forward to the sunny days when we are home during the day to really dry out.
Lack of movement. You don't realize how much your steps add up walking around your house until your house is this tiny. It takes about 8 steps to move from one end to the other. As a result we have found ourselves feeling a little more stiff and achy. We have found we need to be intentional in getting outside and moving about as much as possible. We've got to move it, move it!!
Quiet please! Darcy tends to go to bed VERY early. I tend to be a night owl. This makes for interesting tiny living! Overall, we have made it work. We have a partition that blocks off the bed area of the trailer and if I keep the TV turned low I can watch it or work on my lap top without keeping Darcy up. But forget any late night phone chats, unless it's work calling, of course.
Limited hot water. We have about a 6 gallon hot water tank which is usually more than enough for one shower. If we get ready at the same time Darcy has to take a navy showerJ
Limited space for clothes and shoes. As a result, we focus on keeping only the items we really love. We do have a storage unit nearby and we plan to switch clothes out as the seasons change.
Internet and data. We learned that when you don't have the normal home wifi set up you use a lot of data! We have a Verizon "Mifi" but it uses your cellular data. We had to really monitor data usage until recently. Verizon recently offered an unlimited data option so we nabbed that right away. It has been well worth it!
Limited food storage. This was a tough one for me at first. I was so used to buying larger amounts of food and only shopping once a week. No more big tub of spinach anymore! We need to buy our food more on demand. Perhaps this is why we find ourselves eating out more.
Rain. This falls in the category of both a pro and a con. The sound of rain in the Airstream when you are on vacation it is so soothing and even relaxing. However, when you have to be up at 5:30, and it's pouring constantly, this does not make for the most restful sleep, particularly for Darcy.
Dogs. Let's face it, having 2 dogs in a trailer makes things a little more challenging. Fortunately, our dogs are on the senior side of living and as a long as they have a snuggly spot to lounge and are with their people they are pretty content. That being said, we could not have made this lifestyle change as successfully without our dear friend Gail. She has been unbelievably helpful and so generous with her time and love for our girls. Makes it a lot easier to head to work knowing the girls are so well loved when we are away.
Feeling more vulnerable. Feeling safe in your home is super important. I wont go into details but we did have a moment where that sense of safety was compromised. It required us to take a step back, regroup and re-evaluate. The truth is we were vulnerable in our other home too. But we didn't necessarily feel it as much. Let's just say we are a bit more cautious now than we were before. Situational awareness is important no matter where you are.
Enough with the cons! What's so great about tiny living??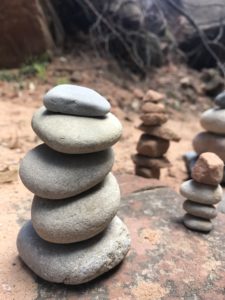 Fast house chores! We no longer spend a large chunk of time managing house chores. We can thoroughly clean the trailer in less than 30 min. It would probably be even faster if we didn't have 2 dogs that shed more than any other dogs we know! Laundry takes a fraction of the time since we use the laundry room at the trailer park and can do 2-3 loads at once. We have even treated ourselves to drop off "wash and fold" for $1.25/ per pound. Drop it off in the am and pick it up in the pm for the ultimate time saver!
Rent is cheap! Compared to our mortgage, rent space in the trailer park is very reasonable and includes water and garbage. We do pay for PG&E which resulted in a costly lesson the first month. Who knew a space heater consumed so much energy?
Achieving financial goals. This is a big one for us. Part of this adventure is helping us to achieve specific financial goals and we have found this to be a big plus. We want financial freedom in the future and for us this is a trail leading to that. Not only do we no longer have the financial responsibility of a mortgage but we have dramatically reduced our monthly expenses. So many big and little bills have been eliminated. No property taxes, gardener services, housekeeper, no water bill, garbage bill, etc. Lot's of little things we no longer have as monthly expenses. This also saves time as I have been able to automate the few bills we do have so I spend very little time now each month managing bills and balancing my check book. In fact, with Darcy's encouragement I actually gave up balancing my checkbook. I was the type that would spend hours writing every withdrawal and deposit in my checkbook and if it was off, by even a penny, I would spend hours until I found it! On the contrary Darcy would spend NO time doing this and guess what? Nothing bad ever happened. So, I decided to let it go and see what would happen. I gave up writing EVERYTHING in my checkbook register and took that time back. I could not be happier and I've gained a few more hours a month back in my life.
Buying less stuff. We buy less "stuff" because we don't have a place to put it. And if we do buy something, such as a clothing item it usually means something gets tossed or donated. This also helps with the financial goals.
Enjoying experiences more. We have found that we enjoy our experiences even more. We find ourselves enjoying more weekend adventures, and without the stress of feeling like we need to be home taking care of the house. Ideally, we would like to be a bit more mobile with the trailer on the weekends. So far the weekend getaways have not involved taking the trailer but we are working on a plan to be able to get the trailer in/out of the current space without having to disrupt other residents around us. Our trailer space is tight and to move in/out requires other residents to move their cars.
More time to play. We have realized we don't spend a lot of waking time at home. And the time we do spend at home is more relaxing. Between busy work schedules and the activities we do in between work we are not really home a ton. We get more time to relax because it doesn't take so much time to do house chores. More time for Darcy to practice the UkuleleJ
Darcy can fix almost anything! Since our adventure began she has fixed 2 different plumbing leaks, a variety of minor repairs, and thankfully manages all things tank related.
Everything within reach. Or just a few steps away.
We are closer. Physically and emotionally. Fortunately, we both really enjoy being in each other's space and tiny living creates even more of that.
Wanna fight? Not for long in a trailer. Going to the other end of the house because your mad doesn't get you far. Still just a few feet away. Best to hug it out sooner than laterJ
We appreciate the little things even more. Kind of like how backpacking makes us appreciate a flushing toilet and having hot water on demand. Tiny living makes us appreciate things we might have taken for granted. Like elbow room in the shower, practically unlimited hot water, a flushing toilet with no need to monitor "tank level", a huge oven to cook in, a giant fridge and pantry to stock our favorite beverages and foods, plenty of storage, etc. We realize how fortunate we are to be choosing this journey and that this is a path to a larger goal. We appreciate our BENDable life.
And most importantly…….we really appreciate each other.