One question we get asked a lot is about poop! It's an interesting topic and an important one if you are full timing in your RV. For the first 2 months we were parked in a spot where we had only partial hook ups with water supply and partial power (not enough to run all electronics). The place was absolutely beautiful and had the most incredible view, but not having sewer hook ups added some interesting challenges in "waste management". This is the part where Darcy became number 1 at removing number 2!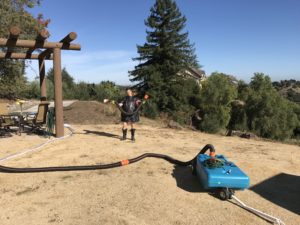 Let's first back up though to the beginning of our full time RV adventure. We had been on several trips in our trailer, and of course loved it, otherwise we would not have opted to do this full time. One thing we realized we did NOT love however was "RV toilet paper". Let's face it, it was NOT Charmin! It was so bad, I actually thought to myself "I don't think I can do this for years!". TP could be my breaking point! RV TP is very thin and designed to break down quickly in the black tank. There had to be a better option! Leave it to Darcy to find it, and let's just say she seized the opportunity! She comes home from a trip to Walmart (they actually have a pretty decent RV section) and I open the truck up and practically the whole back cab it spilling over with TP. I wish I had taken a picture. Bottom line is she found a brand name RV TP (made by Scott) and figured it HAD to be better than what we had. So she bought every roll they had in stock! And she was right! Scott RV TP is the way to go!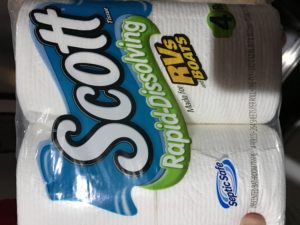 So now that we have the TP part figured out let's talk about tanks. In a typical RV you have 2 tanks that collect waste. The "grey tank" collects water from the kitchen and bathroom sink and the shower. The "black tank" is what collects the liquids and solids from the toilet. As long as you don't put any contaminants in your grey tank you have more options in how you empty that and it can even be repurposed to water plants and such. The black tank, however, is quite a bit more challenging. We knew this would be our biggest hurdle in living with only partial hook ups for the Airstream. Initially, we found a portable sanitation collection company (Honeybucket) that would come out and empty the "black tank". This was great except it cost $90 each visit and we seemed to fill up the black tank within a week! (Darcy has to go a lot! Lol). Since Honeybucket was not cost effective Darcy began exploring other options and ended up purchasing a portable tank on wheels that we, I mean she, could empty and properly dispose of the waste. Thanks to Amazon, our own portable "honey bucket" arrived quickly. Darcy determined the location of the nearest sewer clean out on the property where we were staying and after emptying the black tank was into the portable tank she went on a little walk to get rid of number 1 and number 2.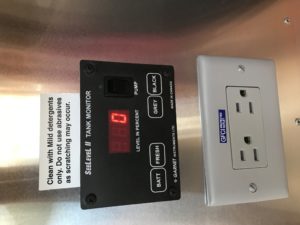 Donning her haz mat suit, which consisted of a trash bag with holes cut out for her arms and head, dedicated gloves, and boots, Darcy took on the weekly chore with a sense of humor and adventure. You will see from the photo that the event was a family affair with the dogs right by her side as if helping with the stinky chore. Over the course of a few months Darcy became #1 at removing #2! Thank you Darcy!