Web site lay out still under construction so please be patient.
For years we had dreamed of owning an Airstream.  In fact, we had a picture of one posted on our bulletin board as inspiration and had a small model Airstream replica displayed on our TV stand.  When we bought our first Airstream in 2014, the dealer advised us to buy bigger than what we thought we wanted due to the number of customers they have returning to trade up for a larger model.  We felt we had taken their advice into consideration when we purchased the 25ft International model.  Fast forward to the start of our full time Airstream living adventure in 2016 and it did not take long for us to realize that 25ft was going to be a bit small for living full time (for us).  We contemplated all the options carefully and ultimately decided that the 30 ft International had the most benefits for us for full time living.  So we found ourselves back at Airstream, as do many customers, to trade up to a larger model.  With the 30 ft International we appreciated a separate dinette and couch for lounging options, more kitchen space to prep food, a larger fridge, a bed that we could walk around all 3 sides, much more storage space, greater floor area for the dogs, tons of natural light, etc. We felt this would provide a much more "livable" foot print for our needs and it certainly has.  If you are in the market for an Airstream or just want to explore some of the different models up close check out Bay Area Airstream in Fairfield, CA and ask for sales manager Christina Bross.
Determining the right size trailer was one thing, but figuring out where to park it was another.  We quickly learned that city ordinances are not exactly supportive of those wanting to live in their trailer full time.  We had some incredible offers from people to come park on their property but we soon realized that was not going to be the most secure permanent option.  At any point we could get the knock on the door telling us we had to move.  It was a bit daunting when our closing date for our house sale was fast approaching and we honestly did not know where we would be beyond a week or two.  We made reservations for the first two weeks at the Alameda County Fairgrounds in Pleasanton, CA so we at least knew that was the starting point.  We also were exploring all the RV/trailer park options in the vicinity.
We arrived at the fairgrounds on October 2nd and were warmly greeted by our wonderful friends Robin and John who had coincidentally started a similar adventure about a month earlier.  I think we were in kind of a state of shock at that point as we faced the reality of the journey we had initiated.  It was so reassuring to talk to John and Robin that evening and share in our new adventures.  We felt a sense of comradery.  We also started out our first week without our dogs. This was quite a big adjustment and our friend Gail graciously offered to take care of our 2 dogs for the first week to allow us some time to get settled with our new routine. This was a HUGE help.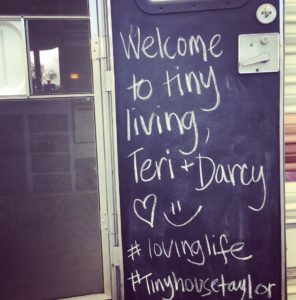 October 3, 2016 marked the final day in our home and was definitely the most emotional day for both of us.  All of our belongings were now out of the house and the finality of our decision to do this really hit hard.  There was no going back now.  As I walked through the house and took in the emptiness I broke down in tears and asked Darcy if we made the right decision.    Darcy reminded me how lucky we were to have had so many great experiences in our home and that we were fortunate to be leaving with full hearts as opposed to broken ones.  I wholeheartedly agreed.  We then shifted our focus on the adventure and opportunity that was ahead of us.
So there we were, our first week of full time tiny living.  So far so good.  We got this!  Of course, nothing can be that easy.  So begins the series of many lessons learned.  One of our first lessons was in cellular data usage.  We knew we needed a portable wifi option so I could reliably connect to my work computer. I read about options on line and opted to purchase a MiFi jet pack from Verizon.  No problem. Seemed pretty easy to use. Only problem…we had connected our phones to the MiFi device when we were at the Verizon store and did not know we should have disconnected them after that.  Apparently, phones are not judicious in the use of data when connected to wifi.  The wifi from the MiFi uses our cellular data.  Unfortunately, our plan is not one of those coveted unlimited ones.  Three days into our new billing cycle we started getting alerts telling us our data plan was used up.  And this was AFTER we had already expanded the amount of data we had in our plan.  Yikes!  Back to Verizon we went.  Thankfully, their customer service was excellent and they were very helpful in educating us as to how the issue had occurred and adjusted our data plan to accommodate the error.  So the lesson we learned was this….don't allow the phones to connect to the jet pack.  Phones are data hogs!
Determining where our permanent location would be ultimately came down to location and stability.  Our standing back up plan continued to be the fairgrounds in Pleasanton but we did not feel that would be the best option for the long haul due to commute length and the fact that the fairgrounds require you to move every 14 days for one night.  Other options we considered included some mobile home/ RV parks in Concord and Clayton.  After weighing the pros and cons of the various locations we opted to focus our attention on a small RV park in Pleasant Hill called Park Royale.  It has a combination of small mobile homes and RVs.  We had received good feedback about the place from several of the residents.  It was a great location and at $650/month, it was also a good value.  The only problem is there was no current opening.  Also, once you move into a spot you are not allowed to change locations in the park. So, that meant we needed to focus on a good spot that we felt would work best for the long term.  At this point, we have the spot identified that we want and if all goes well, we'll move into that location by the end of December.
In the meantime, we took a friend up on the offer to park on his property until our permanent location is available.  We currently lack the convenience of "full" hook ups but have enough amenities to make it work.  This has eliminated the longer commute and has offered other experiences we could not have predicted.  One of the best parts of our temporary location is an incredible view of Mt. Diablo from the trailer.  Each day we learn more and more about the "art" of tiny living and look forward to sharing some of those experiences in upcoming posts.  For us, home is where the trailer is.